South Africa Named Most Favored Offshore CX Delivery Location 2021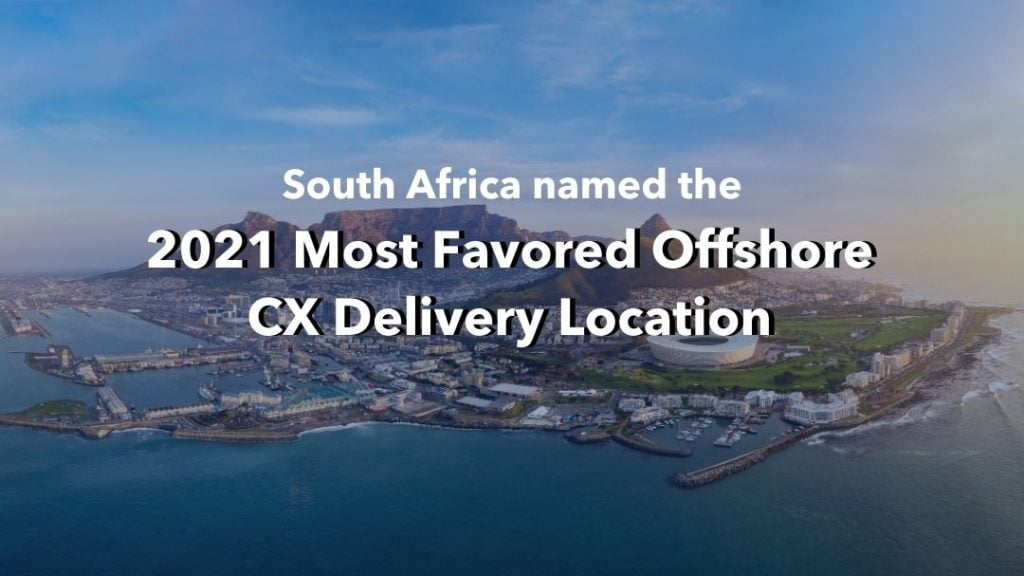 After placing second for three consecutive years, South Africa has finally been awarded 2021 Most Favoured Offshore CX Delivery Location, globally.
The research is from the Front Office BPO Omnibus Survey by Ryan Strategic Advisory, and considers the views of 628 enterprise contact centre decision-makers across the demand markets of Australia, Canada, France, Germany, Italy, Spain, the UK and the USA.
Clayton Williams, who since April has officially moved from his role as CEO Designate to CEO of CapeBPO, released this statement the day of South Africa's win:
"We are immensely proud that South Africa has been ranked as the leading offshore destination in the Ryan Strategic Advisory survey, as announced to a global audience today. The Western Cape is the leading CX delivery region within South Africa and is proudly South African as we prepare for exponential growth and global awareness around our compelling value proposition. We are proud, we are bold and we need to be brave as we really pivot towards real scale and delivery excellence."
As the industry body for BPO in the Western Cape, you may think us biased in saying that the Western Cape is leading delivery within South Africa. However, the Western Cape is in fact responsible for 65% of the customer experience outsource market in SA.
"At the heart of this success is the Western Cape, which served as the incubator for South Africa's upstart international BPO sector over a decade ago," said Peter Ryan, the Principal of Ryan Strategic Advisory. "The momentum that lured some of the biggest names in global outsourcing to Cape Town in the 2010s has permeated the rest of the country, leading to the success that we see today. South Africa's best days are still to come, and Western Cape's role in this achievement could not be more underscored."
"The sum of the whole has facilitated this outcome," concludes Clayton. "Years of hard work, dedication and advocacy from outsourcers, government and let's not forget…the clients!"